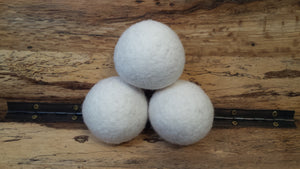 Plain Jane- Wool Dryer Balls 1oz.
Splish Splash Soap Shop
100% Canadian Wool
1000+ dryer loads
Plain White Wool Dryer Balls
1 ounce
Mix & Match 4 for $20
Our long lasting, eco-friendly, wool dryer balls are a great alternative to fabric softeners & dryer sheets. The natural wool fibers reduce drying time by absorbing moisture from the fabrics. The tumbling action of the dryer balls allow warm air to circulate between the layers of fabric, reducing wrinkles & static while softening clothes.
For best results we recommend five 1oz dryer balls per load.
Contact for custom orders.
Due to handmade nature of these products, they may vary slightly from photos.